Events Campaign
In Wisconsin, we love events. Across all seasons, Wisconsin travelers make some of their best memories with friends and family at events, fairs and festivals throughout the state — from the Great Lakes shores to the Mississippi to the Northwoods and everywhere in between. Through our Events Campaign, we're excited to showcase all the craft cuisine, live music, spirited competition and more that Wisconsin has to offer.
We're promoting Wisconsin events, fairs and festivals in big, bold ways — let's take a look:
Fest or Fiction Interactive Game
The Fest or Fiction game is back on TravelWisconsin.com, and we've given it an eye-catching  makeover. Users play through a short series of festivals and are asked, is it a festival or is it fiction? Each answer gives some insight into a specific Wisconsin festival, inspiring players to experience it. Play again and again to learn about different events throughout the state!
Digital Banners
Our animated banners use bright visuals and quick movement to catch viewers' attention. With buttons that lead to Fest or Fiction, the banners will lead people to discover more and more unique Wisconsin events.


Events Directory
A one-stop-shop for discovering Wisconsin's events and festivals, the events directory on TravelWisconsin.com keeps event information organized, user-friendly and easily searchable. Can't remember the location of that one event you loved growing up? Find it here.
Radio
Utilized on both radio and streaming platforms, our 30-second and 15-second winter audio spots immerse listeners in iconic events in Wisconsin. The spot ends with an invitation to rediscover and celebrate our state's events, fairs and festivals.
Paid Search
Google and other search engines are often the first places people go for event information. And we want Wisconsin events up at the top of those search results. The paid search component of this campaign makes sure we meet users where they're at — searching on search engines.
Native Ads
Native ads are designed to match the look and feel of the platform where they are displayed. Our native ads across Google and Microsoft platforms allow us to place Travel Wisconsin event content in spaces where our target audience is already spending time online.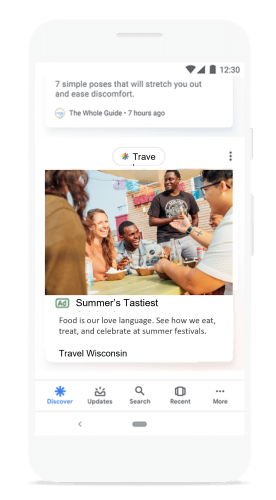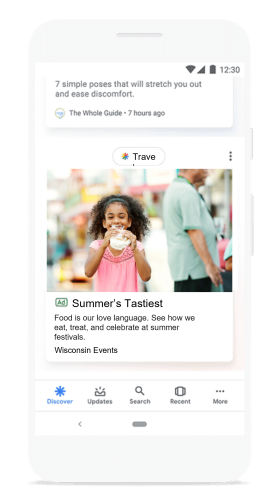 Event Listings
People use our website to plan their Wisconsin adventures with friends and family — including discovering events, fairs festivals. Displayed in the Event Directory and throughout content on TravelWisconsin.com, event listings are an easy (and free) way to advertise your own events. Be sure to submit your event and continue to keep your Travel Wisconsin listings up to date!
Events Widget
We've developed an Events Widget that you can embed on your website or blog to show a live feed of upcoming events from TravelWisconsin.com.
It's easy to create one for your own website, and it's customizable by location (region, county and city) and event category (fairs & festivals, performing arts, sports and many more). Just work through the steps in the Events Widget creation tool — it'll give you the customized widget's embed code as well as some instructions. Work with your own web team to display it proudly on your site, helping more event-goers discover events in Wisconsin!