Seasonal Marketing Plan
Here's to a wonder-filled summer in Wisconsin. To diving headfirst into a freshwater playground—from our Great Lakes shorelines to the Northwoods lake country and stunning Mississippi River bluffs. Here's to feasting with friends on tasty dishes from 5-star restaurants and finding your new favorite food trucks. And to soaking up the sun together at iconic festivals throughout the state. Here's to exploring a welcoming destination where you can be you.
Our Summer 2023 Advertising Campaign highlights all that a Wisconsin summer has to offer and aligns with Travel Wisconsin's strategic brand positioning, inspiring travelers to make magical memories together through unforgettable experiences they can only get in Wisconsin. The campaign's creative features a wide range of travelers of differing abilities and invites us along to share one-of-a-kind summer adventures and quality time with the people who matter most.
Here's a deeper dive into each component of the summer campaign:
TV Spot: 30 Seconds
At the center of the campaign is this 30-second TV spot. Airing on connected TV and other channels across the Midwest, it immerses viewers in unexpectedly awe-inspiring adventures with families and friends including stargazing in an observatory, sailing off a fresh coast and singing along at a lively music festival. Take a look!
Video Extensions: 15 Seconds
In addition to the 30-second spot, we're running 15-second spots on connected TV and other online channels. Each targets a unique audience segment based on their interests and behaviors, including water-themed adventures and a family-focused spot. Knowing our audience is paramount to powerful ads, so we've created messaging tailored just for them.
Digital Display
Our animated digital banners and high-impact mobile ad units inspire travelers to experience an unforgettable summer in Wisconsin. We're utilizing multiple versions of copy and imagery to target relevant audiences with key topic areas. And by carefully matching the look and feel of other assets, these ads create a cohesive, intuitive experience for users.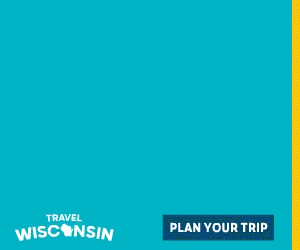 Audio
Leveraging broadcast, music and podcast streaming platforms, our 30-second and 15-second summer audio spots immerse listeners into an array of uniquely Wisconsin experiences shared with the people they love. 
Social
Captivating ads across multiple social platforms showcase memorable summer fun in Wisconsin. We leverage 15-second videos to engage viewers, drive web traffic and inspire travel.
Out-of-home
We're placing these eye-catching billboards across the Midwest this summer to inspire a wide variety of travelers. Each billboard location was strategically selected based on geolocation data that shows what neighborhoods our visitors are coming from.
High Impact Out-of-home
We're running an out-of-home high-impact campaign in a busy intersection in the heart of downtown Minneapolis this summer. Utilizing three full-motion digital billboards, we'll be captivating consumers with our Here's to Those Who Wisconsin creative in an entertainment district that's home to two professional sports stadiums, four theaters, two shopping centers, five Fortune 500 companies and the Mayo sports medicine clinic.
TravelWisconsin.com Listing Filters
As we continue to embrace welcoming all in every aspect of our work, we're helping travelers make their research – and the decision to book – even simpler by offering new features on TravelWisconsin.com. Disabilities affect 1 in 4 Americans, with many different factors at play that impact whether travel parties can travel comfortably. We've identified 20 new descriptions to help travelers more accurately understand how businesses and events' accessible offerings will meet their travel parties' unique needs. These features can be used to filter listings across TravelWisconsin.com to search for businesses and events that identify these offerings. Check out all 20 accessible features here.  
We have also refreshed and expanded our accessibility landing page to provide travelers with even more inspiration and resources for barrier-free fun. This page provides information on accessible attractions, lodging and programs in Wisconsin. It also includes previews of Travel Wisconsin stories with an accessibility focus as well as other partner resources to ensure all travelers have the best possible experience traveling in our state.  View the page here. 
Trail Report
The Wisconsin Trail Report is a comprehensive tool developed by the Office of Outdoor Recreation that brings together hiking & biking trail networks from across the state. By visiting this page, outdoor enthusiasts can discover new places to hike or bike and check conditions before heading out on their fresh-air adventures.    
Trail Report Widget
The Wisconsin Trail Report Widget is powered by the Wisconsin Trail Report and allows you to showcase real-time hiking and biking trail network conditions across Wisconsin.    
It's easy to create one for your own website, and it's customizable by county, multiple counties or the entire state. Just go through the steps in the Wisconsin Trail Report widget creation tool — it'll give you the customized widget's embed code as well as some instructions. Work with your own web team to display it proudly on your site, helping more travelers plan and experience an extraordinary summer season in Wisconsin.