Deputy Secretary Maria Van Hoorn
Born and raised on a farm in rural Chilton and now a proud Milwaukeean, Maria Van Hoorn understands the natural beauty, culture and undeniable appeal of Wisconsin. Early in her career, she was a server at a family-owned supper club, sold concessions and poured Miller Lites at Lambeau Field in college and worked at a popular downtown Eau Claire hotel. Those hospitality experiences taught her valuable lessons about being people-focused, which she's applied as an experienced manager in the government and nonprofit sector.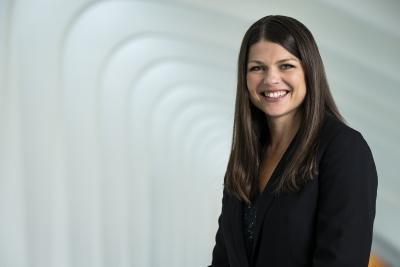 Van Hoorn joins the Wisconsin Department of Tourism as the Deputy Secretary effective October 11, 2021 ready to apply her organizational management skills to advance economic development in her home state. Guided by her belief that economic development is at the heart of a vibrant healthy communities, tourism is a natural fit.
Van Hoorn is excited to lead the Department of Tourism's operations drawing upon her experience in government administration, where she oversaw over $60 million dollars in contracts in Milwaukee County and day-to-day operations for 195 state government employees. Convening and engaging experts, professionals and consumers has been central to Van Hoorn's success leading cross-sector partnerships. She has created and sustained partnerships in the human services and community development field focused on economic opportunity, health and the safety of children and families. Strategic and methodical, Van Hoorn has driven internal change management initiatives and developed resources to foster learning and innovation for nonprofit organizations nation-wide. Van Hoorn brings her versatile skill set in organization management, fund development, marketing and policy analysis to agencies to lead impact driven change and advance strategic priorities.
Van Hoorn holds a Master's in political science with an emphasis in Public Service/Nonprofit Management from Marquette University and an Undergraduate Degree in International Relations from St. Norbert College. She serves as the Village of Shorewood's Human Relations Commissioner and Chair of the Policy Subcommittee. Her husband and two daughters reside in Shorewood and spend as much time as they can outdoors – hiking, biking and relaxing on the shores of Lake Michigan and the Northwoods lakes, enjoying Milwaukee's vibrant neighborhoods and cultural amenities, and frequenting local farms and businesses for delicious food.