Marketing Plan
Fall in Wisconsin is full of spectacular fall colors, exploring the outdoors, savoring delicious meals and exploring hidden trails. Time spent having adventures and reconnecting with family and friends. This fall, we're inviting travelers to bask in the fall colors of reds, oranges, and yellows, and chase those moments together in Wisconsin.
TV Spot – "Fall in Wisconsin – The Most Spectacular Time of Year"
Our fall 30-second TV Spot highlights unexpected ways to experience Fall in Wisconsin. We start with a view of one of Wisconsin's gorgeous waterfalls, Interstate Falls, surrounded by our iconic fall colors, with a family taking in the colors and making those unforgettable memories. Then viewers will see a group of friends rock-climbing at Grandad Bluff in La Crosse, knowing the peak will deliver incredible views. Speaking of incredible views, we see a family take a turn through one of Wisconsin's UTV trails and then zipping through the trees by zipline at Northwoods Zipline at Minocqua. What a way to see the fall color and enjoy the outdoors together. Then we savor the flavor of Wisconsin with a dinner at Rooftop Terrace at The Charmant Hotel in La Crosse. Friends take a bite of fall with a quintessential experience at Ecker's Apple Farm. We end with an awe-inspiring sunset view over Grandad Bluff.
Online Video
Additionally, we created 4 shortened 15-second versions of the spot, each highlighting a different theme – brand, family, food and drink, and outdoor recreation. These videos will be displayed in Connected TV, pre-roll ad units and on social media. We've also created dynamic video ad units that will be targeted and drive awareness to various fall landing pages and the Fall Color Report.
Digital Banners & High Impact Mobile Ads
Aligned with our fall video spots, animated digital banners and high impact mobile ad units will inspire travelers to bask in the fall colors while visiting Wisconsin. Showcasing outdoor recreation opportunities as well as memorable fall color views, the creative features a family exploring a waterfall and friends enjoying scenic views on the bluffs.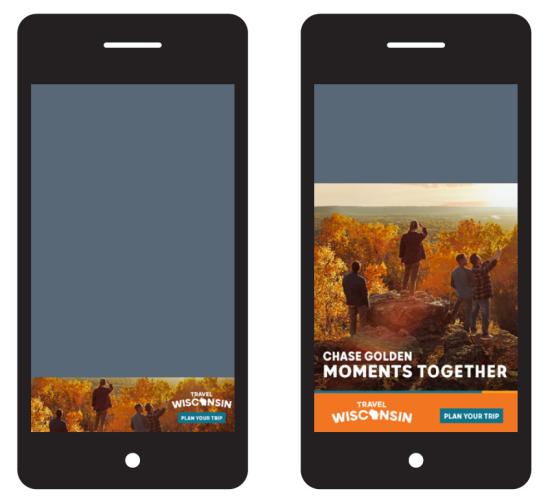 Audio
Leveraging broadcast and streaming audio platforms, our 30-second and 15-second fall audio spots will highlight different experiences of fall while visiting Wisconsin including overall brand support, outdoor recreation, family time, and food and drink, giving listeners inspiration for memories they around bound to create.
Social
Utilizing Facebook, Snapchat and Pinterest, we're highlighting our fall video and our :15 video extensions to engage audiences interested in our content. Our ads will drive viewers to landing pages on TravelWisconsin.com to learn more about traveling in Wisconsin.
Out-of-Home
Fall in Wisconsin means getting outdoors and taking in the fall colors. Our standard boards feature family and friends exploring Wisconsin's trails by UTV, playing in the fallen leaves, and taking in the fall colors. We'll also be promoting fall color with spectacular boards with extensions to resemble a tree. Over the weeks, we'll change the creative moving the leaves of the tree from green to yellow and orange to red.