Events
It's the moment we've been waiting for: events are back in Wisconsin! From world-class beats at Summerfest, to high-flying thrills at EAA Airventure, to delicious eats at Warren's Cranberry Festival, we know Wisconsin's fairs and festivals have everything to offer — and we're ready to share them far and wide. Our events aren't only for seasoned festival-goers and event enthusiasts — we have something for everyone. Our message is clear: the events we're known for are back, but they're missing one thing: you.
Landing Page
The campaign's landing page is designed for exploration. Clickable images lead to event listings and event-focused articles, allowing users to easily discover all that Wisconsin's events have to offer. View here. 
Digital Banners
Our animated banners use bright imagery and quick movement to catch viewers' attention. With buttons that lead to the campaign's landing page, the banners will lead people to explore their own unexpected.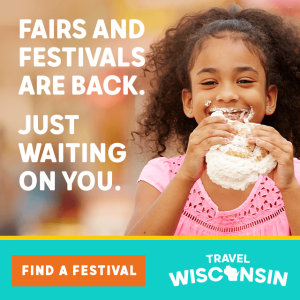 Radio
Utilized on both radio and streaming platforms, our 30-second audio spots immerse listeners in Wisconsin's iconic events. Each spot ends with an invitation to rediscover and celebrate our state's events, fairs and festivals.
Social
Leveraging both Facebook and Instagram, we're highlighting specific events across Wisconsin by strategically targeting users with ad units to spark interest, encourage engagement and boost event attendance.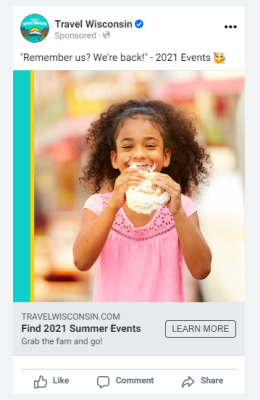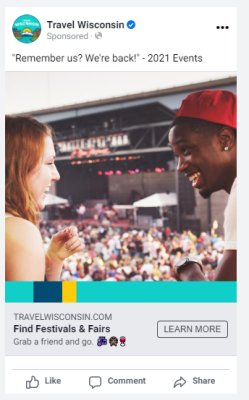 Nextdoor
We're reaching people in a new way: on the app Nextdoor! The app is used to keep social connections strong within local communities, so it's a perfect platform to showcase Wisconsin's one-of-a-kind events that are bringing people back together.